Dean Emerita Nancy Woods Retires, Named Living Legend
Dean emerita retires, named Living Legend
The UW School of Nursing is proud to announce that Dean Emerita Nancy Fugate Woods, Ph.D., R.N., F.A.A.N, will be inducted as a Living Legend of the American Academy of Nursing at the Academy's Transforming Health, Driving Policy Conference this fall in Washington, D.C.
Her legacy lives on: As a dean, researcher, professor and mentor, Woods touched many lives
Dean Emerita and Professor Nancy Fugate Woods, Ph.D., R.N., F.A.A.N., retired from the UW School of Nursing in June 2017 after a career that spanned almost 50 years. She most recently served as the Interim Associate Dean for Diversity, Equity and Inclusion and professor in the department of Biobehavioral Nursing and Health Informatics.
"Nancy Fugate Woods is truly a legend in the field of modern American nursing," said Executive Dean Azita Emami. "She has inspired thousands on her path as a nursing leader, and improved countless lives through her research into women's health. The UW School of Nursing is fortunate, proud and honored to have been her home for so many years and so many achievements. It is with full, but heavy hearts, that we wish her the best in her retirement, the next stage of her remarkable life."
Early life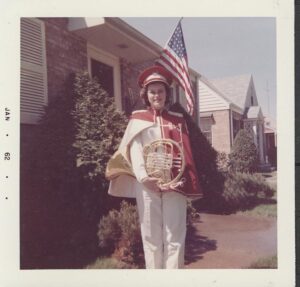 Woods grew up in Eau Claire, Wisconsin, as one of five children. Her mother had the rare opportunity to attend college during the Depression, which shaped her life view of women's roles and opportunities.
"My mother was a typical stay-at-home mom, but she had an enlarged vision of what was possible for women, and she raised me to think there wasn't anything I shouldn't try. Both my parents saw the value of higher education," Woods said.
Woods went to the University of Wisconsin, Eau Claire, on a music scholarship. As a sophomore, she noticed a sign in the hallway for a Health Resources and Services Administration (HRSA) training grant for nursing education, and decided to give it a try.
"I had to have a part time job throughout college, and in addition to my ongoing music gigs was working at a small community hospital on evenings and weekends. That's when I saw the nursing profession up close, and grew to admire what nurses did," Woods said. She changed her major from music to nursing and started down a path that would end with her as one of the nation's leading voices in nursing education and research.
Woods received her BSN in 1968; the same year, she joined Eau Claire's Sacred Heart Hospital as a staff nurse. After just one year, she enrolled at the UW School of Nursing for a Master's in Nursing, graduating in 1969. Throughout her Master's education, she worked as a staff nurse at hospitals in Seattle, including the University of Washington Hospital (now UW Medical Center).
By 1972, she was a nursing instructor at Duke University. She remained at Duke until 1978, reaching associate professor. While on faculty at Duke, Woods pursued a Ph.D. in epidemiology at the University of North Carolina, Chapel Hill. She completed her doctorate in 1978 and moved back to Seattle to teach at the University of Washington, where she remained for the next 39 years, eventually leading the school for a decade as dean.
Women's health research
Woods is one of the United States' most distinguished scholars of women's health and a pioneer of research on the menstrual cycle. She has written or collaborated on more than 300 scholarly publications, focusing, in particular, on the development of women's health studies, the menstrual cycle and menopausal transition.
As a nascent researcher, Woods recognized a profound dearth of research on the menstrual experience of typically healthy women. "I got very interested in the menstrual cycle because of the women's movement of the 1970's. At the time, researchers presented stories about PMS and symptoms in which all the data gathered had come from women with severe mental or physical illness. This very specific data was then being used to describe the experiences of all women! I wrote a small grant proposal on the menstrual cycle, to gather information from a community of women. This ended up being the first prevalence study of menstrual symptoms in the United States ever."
This small, groundbreaking study was the first of many by Woods, who had begun a mission to fill the gap of scientific literature around women's health. By the 1980s, Woods' program of research coalesced around the menstrual cycle and included studies on dysmenorrhea, self-care and mental health during menstruation, socialization and stress of menstruation,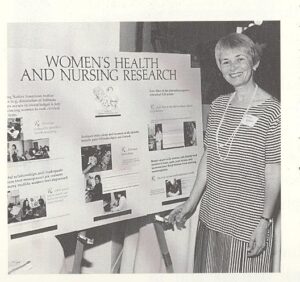 premenstrual syndrome, and perimenstrual and menopausal symptom studies.
Joan Shaver, '70, '76, Dean of the University of Arizona College of Nursing, has collaborated with Woods for decades.
"In her research Nancy has influenced the framework for the whole field of women's health as well as women's health in nursing science. Particularly for women experiencing menstrual disorders or transitioning to menopause, Nancy has shone a spotlight on novel sources of women's symptoms and importantly revealed the impact on their daily lives. Furthermore, she harnessed and invented innovative ways to let the voices of women inform our understanding of their health challenges," Shaver said.
As Woods and her research colleague, Dr. Ellen Mitchell, aged, they noticed another gap in research—the experiences of premenopausal, menopausal and post-menopausal women. "There was very little work on the subject of the typical menstrual and post menstrual experience. So, in 1989, we started the Seattle Midlife Women's Health Study and followed the participants for 20 years."
The Seattle Midlife Women's Health Study was a foundational component to the UW School of Nursing Center for Women's Health Research, which focused on women's health across the lifespan. It was the first center of its kind sited at a School of Nursing, dedicated to women, their health, and health-seeking behavior patterns. The National Institutes of Health (NIH) generously funded both the Center for Women's Health Research and the Seattle Midlife Women's Health Study numerous times between 1990 and 2006. In addition, the School earned NIH funding to support a Women's Health Nursing Research Training Program for predoctoral and postdoctoral scholars that continued for 20 years
"The extraordinary impact of Woods's research and reputation is evident in her success at garnering multiple rounds of National Institutes of Health (NIH) funding and her prolific scientific published papers record," Shaver said. "Moreover, remarkable are the numerous  invitations into national women's health research agenda-setting dialogues, interdisciplinary, multisite clinical trials, and election to top leadership positions interprofessional women's health societies."
Woods's research career demonstrates not only a profound intellectual curiosity for the subject of women's reproductive health, the menstrual cycle and menopause, but a genuine passion to understand and improve women's lives and experiences.
UW legacy
As dean, Woods presided over ten years of the school's number 1 ranking in U.S. News & World Report magazine. She also presided over the launch of the Doctor of Nursing Practice degree, the first program of its kind on the West coast. She made strides in establishing partnerships for both clinical education and nursing research between the School of Nursing and regional hospitals and medical centers.
She took the rare and bold step of publicly apologizing for the school's history of discouraging and failing to adequately support and admit African American students and students from underrepresented backgrounds in their efforts to complete their education. She used this apology to not only acknowledge a painful past, but also to be a catalyst for positive improvements that have ultimately led to current efforts to create a diverse, equitable and inclusive environment at the school.
In a 2010 article, researchers Carole Schroeder and Robin Di Angelo documented Woods's apology and the school's efforts to both recognize the school's history and diversify its future. "This gesture can be seen as an emancipatory act, for it demonstrated the institution's willingness to not only acknowledge our exclusionary past but also change the current situation," they said.
The Robert G. and Jean A. Reid Endowed Deanship in Nursing, a $3.5 million gift and just the third endowed deanship in the country, was established as a tribute to Woods. In addition to increasing undergraduate enrollment, more than tripling the size of the School's endowment, and providing nearly 50 new scholarships and fellowships, Woods and her colleague, Tracy Ostrem, secured nearly $34 million in private gifts.
"Nancy provided outstanding vision and leadership for the School of Nursing's successful fundraising campaign through meaningful engagement with alumni, volunteers, healthcare partners and national foundations," Ostrem said. "Her thoughtful, influential, collaborative style secured support to ensure that a pipeline of nurses will enhance the care of patients around the state and beyond; fuel nursing research to enhance patient care; and develop the next generation of nursing leadership"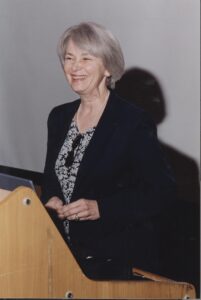 Woods' record also involves substantial service to her profession and to federal agencies. She has served as a leadership member of the Advisory Committee on Women's Health in the National Institutes of Health's Office of Women's Health Research, and as a member of the National Advisory Council on Nursing Research for the NIH. She served as president of the American Academy of Nursing, the North American Menopause Society and the Society for Menstrual Research. Committee memberships include the International Congress on Women's Health, the Council of Nursing Educators for Washington State, and the King Country Workforce Development Committee.
Woods received the American Nurses Foundation Distinguished Contribution to Nursing Research Award and was elected to the Institute of Medicine of the National Academy of Sciences. She serves on the editorial board of Menopause and Women's Midlife Health and has served on the board of the Society for the Advancement of Women's Health and Research. For her contributions to the academic discipline, she has received honorary doctorates from the University of Haifa, Israel; Chiang Mai University, Thailand; and the University of Pennsylvania.
Woods has mentored hundreds of nursing students in women's health and women's health research, health policy, and research methodology. For her years of mentorship, she received the 2013 Western Institute of Nursing (WIN) Anna Shannon Mentorship Award, given to WIN members who have "served as a role model for leadership and professionalism and placed greater emphasis on advancement of the nursing profession than on advancement of themselves."
Recent work
Most recently, Woods has led the School of Nursing's strategic efforts in Diversity, Equity and Inclusion, serving first on the School's Diversity Committee and then as the Interim Associate Dean for DEI.  With Dean Emami she presented the School's strategic plan for DEI at the 2017 American Academy of Colleges of Nursing (AACN) annual meeting. The AACN will model elements of their diversity statement and initiatives after the UW School of Nursing's diversity initiative and Emami will serve on the AACN Committee on Diversity.
Woods has continued her research in women's health, refocusing on women as they age, and serving as co-director of the UW School of Nursing De Tornyay Center for Healthy Aging with Professor Barbara Cochrane. Together, they have worked to develop a framework for what healthy aging means based on older adults' experiences, communities, providers and caregivers. One of Woods's recent studies found that more than 20,000 women, at 80 years and older, report excellent health, peace of mind, and a strong sense of purpose and control. The study participants are the same women Woods began studying at the School of Nursing's Center for Women's Health Research more than 20 years ago.
"What does it mean to age well?" Woods asked. "We can't define the diagnoses we receive, but we can define the quality of our lives," she said. "When we can't do something anymore, we can redefine ourselves and what matters to us. And well-being isn't always something you can see, hear, or touch. But we live it every day."
In lieu of a formal celebration, Woods has asked that tribute gifts honoring her retirement and career be given to the Nancy Fugate Woods Endowed Scholarship in Women's Health.
"This fund has special significance to me because women, especially women of color, are the most directly impacted by health disparities," Woods said.